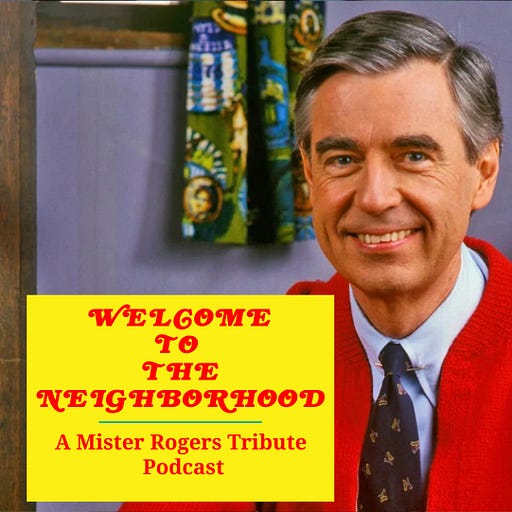 Apr 30, 2021 • 41M
Welcome To The Neighborhood: A Mister Rogers Tribute Podcast with Guest Tim Madigan
Author - I'm Proud of You: My Friendship with Fred Rogers
A Mister Rogers Tribute Podcast hosted by Rick Lee James
Welcome To The Neighborhood: A Mister Rogers Tribute Podcast 
I'm your host, Rick Lee James of RickLeeJames.com and I run the Mister Rogers Quotes Twitter account found @MisterRogersSay. 
As we again walk into this podcast neighborhood, we want you to know that no matter where you are from, you are welcome here. I'm glad to be your our neighbor. Every daughter, every son, every tribe, and every tongue, in the Spirit of Fred Rogers and the life of welcome that he lived, welcome to the neighborhood.  
—-Rick Lee James
My guest today is Tim Madigan. In a journalism career spanning more than three decades, Tim has written for the Washington Post, Chicago Tribune, Politico, Reader's Digest, and for thirty years the Fort Worth Star-Telegram.

Tim's books included the critically acclaimed The Burning: Massacre, Destruction, and the Tulsa Race Riot of 1921; and a novel of the Greatest Generation and the aftermath of World War II, Every Common Sight.

It was a 1995 assignment for the Star-Telegram that led to Tim's interview with Fred Rogers, the icon of children's television, and a close friendship between the two men that last until Rogers' death in 2003. Tim's memoir, I'm Proud of You: My Friendship With Fred Rogers, is an intimate account of Rogers' human greatness, and a testament to the healing power of friendship. 

That transformative relationship and Tim's own experiences as seeking and healing human being remain at the heart of his work. More than a decade after it was first published, I'm Proud of You continues to inspire readers around the globe, and Tim continues to speak of Mister Rogers and matters of the heart to varied audiences around the nation. 
---
Thank you for joining us here this week in the neighborhood.
Music featured on podcast was Nouvelle Noel by Kevin MacLeod and all other Music by Bejamin Tossot at Bensound.com
Special Thanks to my guest Tim Madigan - https://www.timmadigan.net/books
And The @MisterRogersSay Community on Twitter
I'm your host Rick Lee James. My Twitter account is @RickLeeJames, my web site is RickLeeJames.com, My other Podcast is Voices In My Head (The Rick Lee James Podcast), and I look forward being with you again next time.
Until WE MEET AGAIN, REMEMBER: 
"You make each day a special day. You know how, by just your being you. There's only one person in this whole world like you. And people can like you exactly as you are."

—Fred Rogers